Shopping Basket
Your Basket is Empty
There was an error with PayPal
Click here to try again
Thank you for your business!
You should receive an order confirmation from Paypal shortly.
Exit Shopping Basket
Welcome to Eden's Leaf...natural, affordable, lovelies for all!
A  LITTLE  EXTRA   ZINC FOR THE BRAIN
Some recent studies have shown a link between low zinc and good brain function.  I believe it.  So many folks are low in many vital nutrients due to poor "fast food" eating habits.One study actually proved that the meds a patient was taking caused them to be low in zinc, therefore causing memory loss and even slight disorientation. Yech!   When zinc supplements were given, the patient quickly recovered normal function and ability. How simple was that?! Yet, today, many doctors would just diagnose another "illness" and add another med to the patient's already existing list.  Remember, we have always got to find the root cause of a symptom, then work from there. Another study was based in a very poor geographical area finding people of all ages very low in zinc and also suffering from memory loss as you would see with senility.  Once again, symptoms improved when the folks were given zinc supplements. As always, the best way ato get these nutrients is directly from the food source. Good sources of zinc are listed in this chart.
Table 2. Zinc in Plant Foods3
Food Preparation Serving mg
Tofu firm, raw 1/2 cup 2.0
Tempeh raw 1/2 cup 1.0
Garbanzo beans boiled 1/2 cup 1.3
Pinto beans boiled 1/2 cup 0.8
Kidney beans boiled 1/2 cup 1.0
Lentils boiled 1/2 cup 1.3
Almonds whole 1/4 cup 1.1
Walnuts chopped 1/4 cup 0.9
Pistachios 1/4 cup 0.7
Pecans halves 1/4 cup 1.1
Peanuts raw 1/4 cup 1.2
Peanut butter 2 tbsp 0.9
Sunflower seeds roasted 1/4 cup 1.7
Corn yellow, boiled 1 cup 0.9
Peas boiled 1/2 cup 1.0
Oatmeal cooked 1 cup 2.3
Cashews dry roasted 1/4 cup 1.9
Chia seeds dried 1 oz 1.0
Miso 1 tbsp 0.4
Broccoli boiled, chopped 1/2 cup 0.4
Here, at Eden's, I include zinc powder in our deodorants as well as sunscreen.  Most folks are low in zinc, and it will not hurt to get extra at all!
All THE TALK OF THE THEIVES...
I have had several requests for the blend of very beneficial oils traditionally called "Theives". This blend has been used for a couple hundred years or more. No one distributor can take the credit for this wonder or claim theirs is the "medicinal" blend that works best. For a small bottle from a couple of multi-marketing companies will cost you in the area of $45. Good news is, you can make your own blend in a small portion or for a large recipe making approximately 5 small bottles of your own in the neighborhood of $40. Bottom line, we all want to build our immune systems without spending our paycheck to do it. No person in their right might should try to persuade one to purchase only one line of essential oils very highly priced when you can be frugal and happy making your own? Now, I will be making this blend for folks who do not have the time to make theirs or simply prefer to purchase it.....at a very good price. I am not our to see how high my profit margin can get, I seek to help all my clients and friends to take care of themselves at affordable prices or bartering! The information about this blend in a nutshell, is it really purifies the air, is antiviral, antifungal, and antibacterial. With this in mind, the uses are endless, from making your own house spray, cleaning wipes, ointments, diffuser oil, hand sanitizer and more. Space does not permit me to share the amazing uses of each of the oils in the recipe. Mind you, age, health, pregnancy, should be considered before any essential oil blend is put directly on the body and NEVER without a carrier. When I make my blends, I also let mine set for a couple weeks and just because I have this in my routine, I do a skin patch test on myself before it is used or sold to anyone else. The longer you let this blend set, the better the overall fragrance as well and essential oils work very powerfully when mixed..kind of like a "team"! Here is a recipe for a small batch of "Theives" oil. It is said that this oil was used during the time period of the plagues being very effective.
10 drops Rosemary 35 drops Lemon
15 drops Eucalyptus 40 drops Cloves
20 drops Cinnamon
Keep oils off of your skin and use glass containers storing out of direct sunlight. This mixture costs approximately $8 and makes enough for some good uses!
GRANNY'S REMEDIES....baking soda!
This inexpensive jewel is used at our home continually. Many have a box in the fridge, opened. How does this powder remove odors? This is sodium bicarbonate, which is an inorganic powder. Home smells are made of organic oils that become "stuck" in the powder and then neutralized in the same manner of which a sponge absorbs water. The "yechies" remain in the baking soda and eventually become inactivated! We always sprinkle some in our kitty litter boxes for good reason. You can put some in a glass jar, sprinkle in some essential oils, shake, put holes in the lid...and you have your own carpet fresh. This smells wonderful in your vacuum bag! Baking Soda is soothing on skin and will detox safely. At Eden's we use this in our bath bomb fizzies and our skin care bath salts. Personally, I mix it with coconut oil for a nice toothpaste. About 1/4 t. in a cup of water will settle any indigestion. Google baking soda benefits and you will be amazed. Be sure to purchase it with no aluminum added.
Copyright © *Eden's Leaf Naturals 2016*, All rights reserved
Want to change how you receive these emails?
You can update your preferences or unsubscribe from this list
I wanted to share a new find....this product is great for joint aches, etc. and to aid strength of bones, tissue, and more. I am amazed and now use it daily. Flexcin is great. www.flexcin.com The ingredients are wonderful in many ways. Now, I do not sell this. I just wanted to share this with you in hopes it will help others like me. I am a runner on asphalt and pretty hard on my knees...THIS stopped all pain when I overdue.
Searching for the best arthritis supplement & joint pain remedy relief treatment?
Sufferers of arthritis & joint pain who take Flexcin w/ CM8® rapidly regain their youthfulness & mobility. Remember when YOU enjoyed good joints? Enjoy that feeling again and learn what thousands of CM8® users have known for years! Arthritis remedy products containing glucosamine & chondroitin are simply not enough.
www.flexcin.com
I see sooooo many folks who have never heard of probiotics who desperately need them.  We should keep our families healthy by incorporating these into your daily regime.  Here is some info on the very best: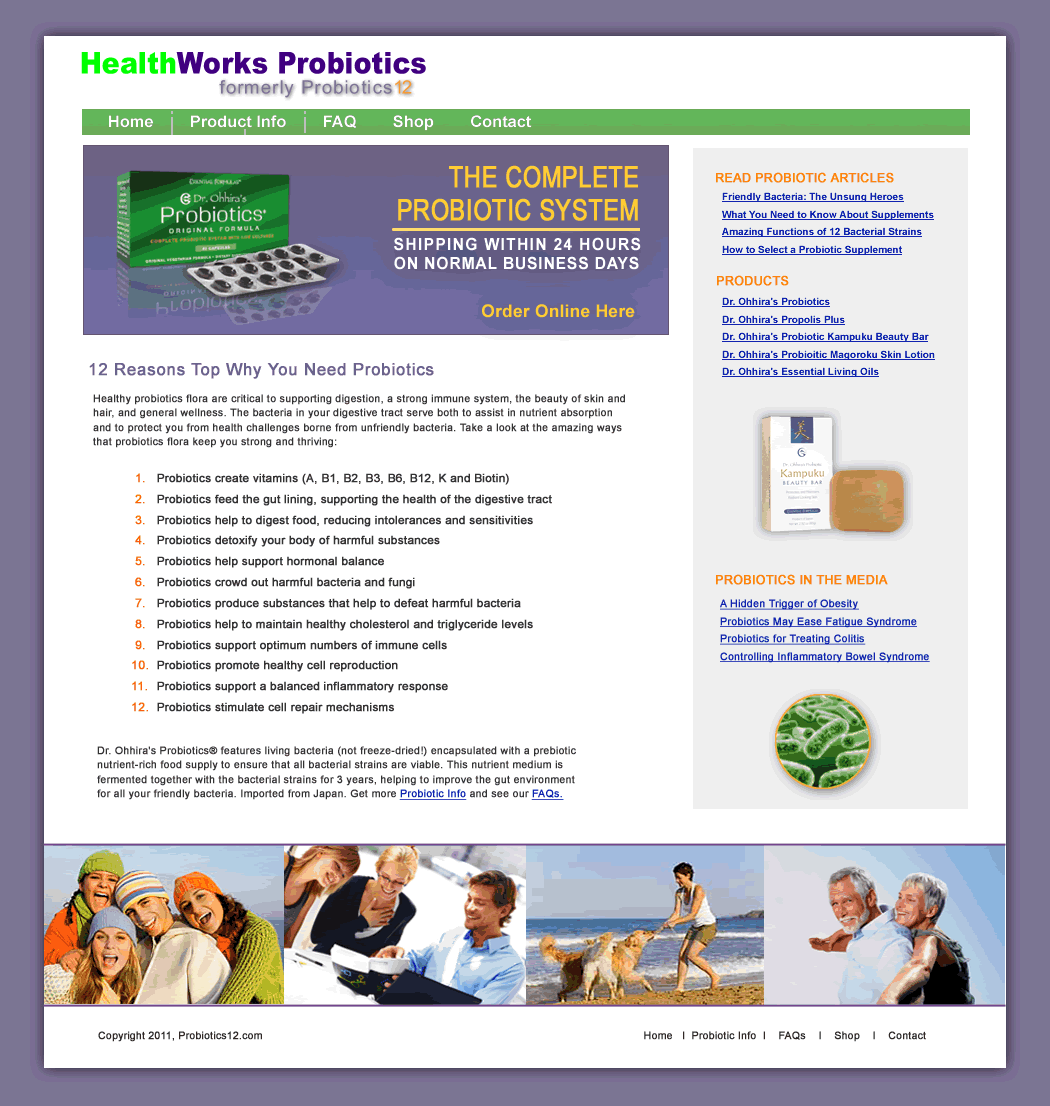 The risk of suffering from flu can be reduced by 50% if they take vitamin D, doctors in Japan have found. The finding has implications for flu epidemics since vitamin D, which is naturally produced by the human body when exposed to direct sunlight, has no significant side effects, costs little and can be several times more effective than anti-viral drugs or vaccines according to research in the American Journal of Clinical Nutrition.

Fatty fish can be a good source of vitamin D. Common options include salmon, trout, mackerel, tuna, and eel.A 3-ounce sockeye salmon fillet contains about 450 international units (IUs) of vitamin D—a good portion of the 600 IUs that is the Institute of Medicine's recommended dietary allowance (800 IUs if you're over 70).And you get a bonus—heart-healthy omega-3 fatty acids!

 Just like humans, mushrooms have the capacity to produce vitamin D when exposed to ultraviolet light.Mushrooms, however, are usually grown in the dark and don't contain the vitamin. Specific brands, however, are grown in ultraviolet light to spur vitamin D production.Check to see if vitamin D–rich 'shrooms, like Dole's Portobello Mushrooms, are available at a store near you. They're perfect for vegetarians looking for plant-based foods that contain the vitamin. Dole's portobellos will give you 400 IUs of vitamin D per 3-ounce serving (about 1 cup of diced mushrooms).

One 8-ounce glass of fortified orange juice usually has around 100 IUs of vitamin D, but the amount varies from brand to brand. Not all brands are fortified, so check the label.Two fortified brands, Florida Natural Orange Juice and Minute Maid Kids+ Orange Juice, contain 100 IUs per 8-ounce serving.

Eggs are a convenient way to get vitamin D. They're popular in many breakfast, lunch, dinner, and dessert recipes.Since the vitamin D in an egg comes from its yolk, it's important to use the whole egg—not just the whites. One yolk will give you about 40 IUs, but don't try to get your daily vitamin D just from eggs.One egg contains about 200 milligrams of cholesterol, and the American Heart Association recommends consuming no more than 300 milligrams a day for heart health. Always, buy organic eggs.

While its name might suggest a less-than-savory flavor, cod liver oil is often flavored with mint or citrus, or comes in capsule form.One tablespoon contains about 1,300 IUs of vitamin D, which is more than twice the recommended dietary allowance of 600 IUs per day.That amount doesn't exceed the maximum upper-level intake of 4,000 IUs for people over 8 years old, but it exceeds the daily maximum for infants (1,000 IUs).

For adults, at high risk of vitamin D deficiency may resort to UV-emitting lamps and bulbs. This includes people unable to absorb the vitamin (malabsorption) or those who can't get enough in winter months, says Michael F. Holick, MD, a professor of medicine, sociology, and biophysics at Boston University Medical Center.Personally, I feel the sun is our best source.  Leave off the sunglasses for at least 20 minutes for the vitamin D to be absorbed well.  Many holistic doctors will tell you sunglasses are a no-no and prevent us from obaining many benefits from the sun.  I never wear them.

Have a blessed day and goooo peek at some sun!




0

/